These are the e-mails on Wikileaks with strange texts about pizza, handkerchiefs and other pedofilia related code words:
https://wikileaks.org/podesta-emails/q=pizza&mfrom=&mto=&title=&notitle=&date_from=&date_to=&nofrom=&noto=&count=50&sort=6#searchresult
The meaning of code words are in this article:
http://yournewswire.com/wikileaks-pedophile-code-words-podesta/
"hotdog" = boy
"pizza" = girl
"cheese" = little girl
"pasta" = little boy
"ice cream" = male prostitute
"walnut" = person of colour
"map" = semen
"sauce" = orgy
By now a lot of information on popular forums and sites have been deleted. Censoring is taking place on Reddit,Twitter, Youtube and a lot of other sites:
https://therealstrategy.com/reddit-just-banned-pizzagate-covering-global-pedophile-ring/
This means the public is on to something big and the coverup is in full swing. A lot of researchers are diverting to alternative social media sites so the information will be accesible. Also the Washinton Post has tried to stop the rumors by posting a article saying there is nothing wrong with these places and we must stop with researching.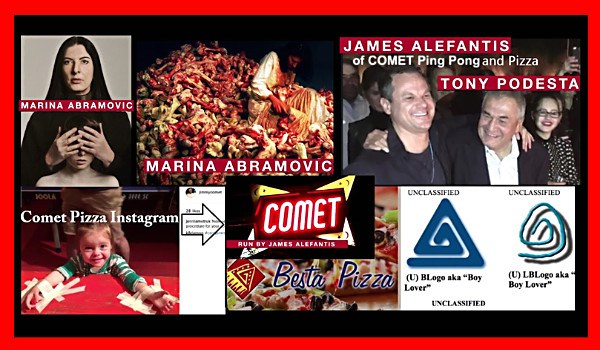 These are some articles about the #pizzagate that can give you an idea of the scale:
The attack on pizzagate is in full swing. Now a gunman is involved trying to get answers in Comet ping pong. This may well be a false flag shadow goverment op trying to push the flase news narrative. It also could be a worried person trying to get answers the hard way. My bet is the first option!
These are some video's about the #pizzagate that can give you an possible idea of the scale and some specifics:
MUST WATCH!!! WIKILEAKS #PIZZAGATE (FINAL CUT)
from
Céline Marina
on
Vimeo
.